AbleMarkets Smart Beta is a class of strategies aiming to capture drivers of return through rules-based, benchmark-driven factors. AbleMarkets delivers streaming Smart Beta for most financial instruments.
Deploy factors into portfolio rebalancing decisions




How it Works
1. Note index values at each rebalancing time-period for every member of the portfolio.
2. Adjust portfolio weightings by multiplying the weight of each asset determined by your existing framework by (1 + AbleMarkets_Smart_Beta).
3. Reap portfolio gains.
AbleMarkets Smart VWAP is AbleMarkets live intraday market microstructure analysis that links to your execution.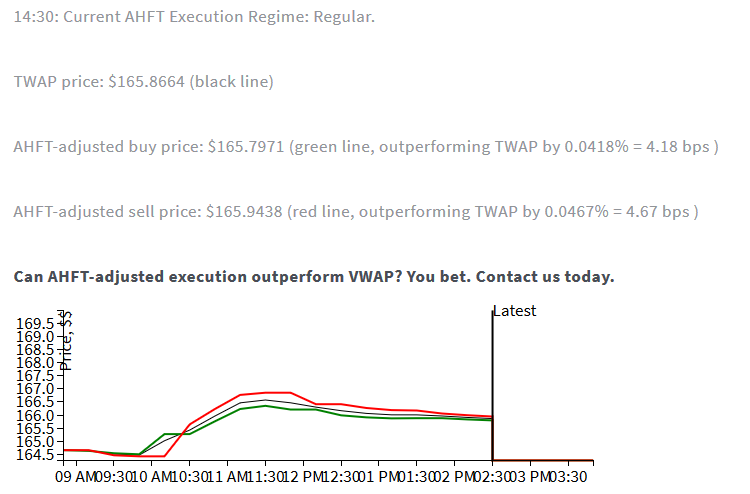 Microstructure
Real time comparison with how your portfolio performance would have fared without AbleMarkets Smart Beta.
The Optimal Schedule
The optimal schedule is a tailored trading profile for a stock, identifying when to increase participation and when to be passive, dramatically improving execution performance.
How Do AbleMarkets Clients Use Smart VWAP?


Intraday, 1 Index
$100 per instrument name per month
Real-time and near-real-time updates throughout each trading day
Reported intraday from 8:30 AM ET to 4:00 PM ET
Alerts for immediately-actionable activity
Receive data on-screen, via FTP or HTML 5
Daily, 1 Index
$35 per instrument name per month
Summaries and details of daily activity for the previous trading day
Reported immediately after market close
Timely for next day's portfolio reallocation
Receive data on-screen, via FTP or HTML 5
Monthly, 1 Index
$10 per instrument name per month
Summaries and details of monthly activity for the previous month
Reported before the first trading day of each month
Risk factors for portfolio and risk management
Receive data on-screen, via FTP or HTML 5
Can't find what you are looking for? Contact us now: email Irene@AbleMarkets.com or